Developed and recommended by doctors and midwives

Fairtrade, sustainably produced and CO2 neutral

100% Softest Egyptian Fairtrade Organic Cotton 

Unisex and perfect cut for any stage of growth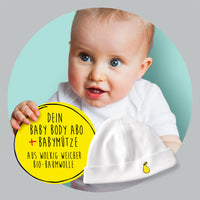 In May: Newborn cap and the LOVED Body on top for free - when you subscribe!
Tom&Jenny baby bodysuit Subscription: Always with a price advantage of 20% on the box price, individually adaptable to the needs of your favorite and cancelable at any time.
You only need to specify the size with which it should start, and select box size and arm length of the bodysuits - everything else we do. After a weekly rhythm calculated by pediatricians, the next size comes to you in the house - shipping free and plastic-free.
.
unsubscribe now
Recommended by doctors and midwives
We from Tom&Jenny made it our mission to bring the best organic baby bodysuits on the market. A concept of the perfect baby body was developed by midwives in collaboration with doctors and mothers in fine and detail work . The holistic organic, fair trade and sustainability concept of our organic baby bodysuits focuses on one thing in particular: the well-being of our little ones. And for this, healthy baby skin is of great importance.
What our customers say about Tom&Jenny
Xenia
"Perfect concept. Only white baby bodysuits without frills. And in a quality that I had to look for a long time."
Nikolai
"The yellow dot in the neck is great! Both thumbs up for the design!"
Rami
"Incredibly baby soft bodysuits that caress even my son's neurodermatitis weakened skin @gentleparentingmum."
Rebecca
"I've never had baby bodysuits that are still so soft after 20 washes."
Cornelius
"The Tesla of baby bodysuits. And in the subscription extremely practical and simple!"
Madelaine
"Finally baby bodysuits that are thought out from front to back. Didn't think you could tell such a difference."
Eilika
"My kids are already too big, but it gives me at least as much pleasure to give away the great baby bodysuits!"